LC2000 Series Linux Laptops
LC2410 Linux Laptop - The Linux Powerhouse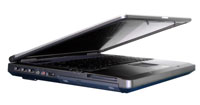 Processor

Intel Pentium 4 - 2.8 GHz
Memory
512 MB
Hard Drive
40 GB (Upgradable to 60 GB or 80GB)
Display
15" XGA TFT LCD
Video/Graphics
Intel Shared Memory
3D Graphics Engine
AGP 2.0 Compliant
Optical
DVD & CD-R/W Combo Drive
Card Reader
3 in 1 Card Reader, support SD/MMC/MS cards
Networking
Built-in 10/100
Modem
Internal 56k
I/O Ports
1 DC-IN jack
1 15 Pin CRT Port
1 S-Video Output Port
1 Parallel Port
1 IEEE 1394 port
1 P/S2 Port
2 Phone Jack For Microphone Input
1 RJ 45 LAN
1 RJ-11 MODEM
1 PCMCIA Card bus socket for PC Card Type II
4 USB 2.0 Ports + Card Reader
1 10K VR for Audio Volume Adjustment
PCMCIA
Type II PCI Cardbus PCMCIA socket
Battery
Smart Li-Ion battery
Physical

Width: 13.5" (345mm)
Depth: 11.1" (282mm)
Height: 1.5" (39mm)
Weight: 7.2 lb
Silver/Black Combo Chassis
OS


Pre-loaded Red Hat/Fedora Linux, Xandros or Linspire Laptop Edition. Linux distribution CDs included.
Optional Dual-Boot Install with Windows XP
Warranty
One year. Upgradable
LC2410 Linux Laptop™ is industry's leading performance/price Linux laptop. There is no compromise in the performance, including big screen, fastest processor and big memory, while maintaining the best price available in the market - making LC2410 the best Linux laptop available today. Full array of drives and ports, makes this the ultimate Linux desktop replacement. The laptop has been thoroughly configured and stress tested by LinuxCertified's engineers.
No Windows Tax! Most laptops come with built-in cost of Windows, regardless of whether you want to use Windows or not. LC2000 series is free of any such baggage. You only pay for Windows if you want to use it.
Price: $1649 $1499 (Special until 9/15/04)
(Quantity Discounts available)
Optional Dual-Boot capability (Linux and Windows XP): $150 (Windows XP included)
Distributions:
Currently recommended distribution on LC2410: Fedora Core 1 with April updates

Xandros: LC2410 is now Xandros Certified! Installation of Deluxe Edition of Xandros Desktop version 2 (includes retail box) is $99.

LC2410 is Linspire certified as well! Please specify your choice of distrubtion while ordering the system.
Current special: Deluxe laptop bag free with purchase.
For professionals with high resolution needs: LC2430: High Performance Graphics Engine
To purchase call: (877) 800-6873
Or