LC2430X Linux Laptop - High Resolution - Ultimate Expandability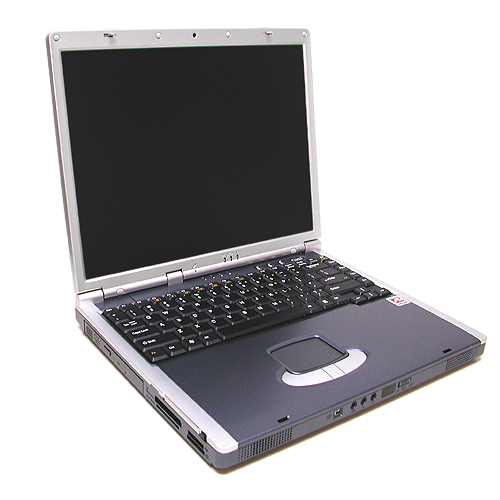 Processor

Intel Pentium 4 - 3.0 GHz (800MHz FSB/1MB Cache)

Memory

512 MB (Upgradeable to 2GB!)
64-bit wide DDR data channel
Comes standard with Five-Year Memory Warranty!
Hard Drive

40 GB High Speed 5400RPM Disk
(Upgradeable to 60GB, 80GB or 100GB)

Display
15.0" SXGA+ (1400 x 1050) TFT Active Matrix LCD Display
Video/Graphics
ATI Radeon Mobility 9700
Integrated 128MB DDR Video
3D Acceleration fully supported
Accelerated OpenGL (More than 2800 FPS with glxgears!)
Integrated CMOS Video Camera
Card Reader
Internal 7-in-1 Card Reader (Secure Digital/MultiMediaCard, Memory Stick, SmartMedia, CompactFlash)
Optical
DVD & CD-R/W Combo Drive
Networking
Built-in 1 Gigabit/10/100
Sound

SPDI/F Digital (5.1CH)
Two Internal Speakers
Mouse
Alps Touch Pad with 3 buttons
Modem
56K V90/V92
I/O Ports


2 USB 2.0 Ports
1 IEEE-1394 Port (4 Pin) OHCI compliant (FireWire)
1 Parallel Port.
1 VGA port: 15 pin DDC2b compliant
1 Keyboard: PS/2 port
3 Audio Jacks:
- 6 pin Mic-in
- headphone-out
- Dolby Digital 5.1 SPDIF Port.
1 FIR compliant 4-Mbps infrared port
1 S-Video TV-Out*
1 RS-232 9-pin Serial port
1 RJ-45 LAN (1000BASET)
1 RJ-11 Modem.
Kensington lock support


* Not tested with Linux

PCMCIA
Type II PCI Cardbus PCMCIA socket
(Supports 32-Bit CardBus)
Battery
Smart Li-Ion battery
Physical


Approx. 7.2 lbs
Dimensions: (H) x (W) x (D) : 1.43"x12.95"x10.8"

OS

Pre-loaded with your choice of Linux distribution. Hyperthreading support. Optional Dual-Boot Install with Windows XP
Warranty
One year. Upgradeable.
Comes standard with LinuxCertified Exclusive Five-Year Memory Warranty

LC2430X Linux Laptop ™, our best selling Linux laptop, is a high resolution desktop replacement. It builds on the LC2400 technology, including great CPU/Motherboard performance, big screen, fastest processor and big memory, and adds high-performance graphics engine to the mix. Whether you are a developer, looking to improve your productivity by being able to work on multiple windows at the same time, or a gaming enthusiast wanting that cutting edge 3-D performance, LC2430X will simply blow you away. The laptop has been thoroughly configured and stress tested by LinuxCertified's engineers. One key feature of this laptop is expandability to 2 GB of memory! This allows the most memory hungry applications, including databases, to be available anywhere you take this laptop.
Newsforge Review on LC2430: "LC2430 comes up big in just about every respect."
LinuxLookup Review on LC2430: "The laptop works exactly as promised, providing a fully functional Linux system that has all the power of a desktop system.
LC2430: Linux Journal's 2004 Readers' Choice Awards winner for Favorite Portable Workstation
No Windows Tax! Most laptops come with built-in cost of Windows, regardless of whether you want to use Windows or not. LC2000 series is free of any such baggage. You only pay for Windows if you want to use it.
Price: $1749
(Quantity Discounts available)
Optional Dual-Boot capability (Linux and Windows XP): $175 (Windows XP included)
Optional 802.11g Wireless card (pcmcia): $99
Memory upgrade special: Upgrade to 2 GB memory: $500 (regular price $800)
Current specials on LC2430X: Deluxe laptop bag free with purchase.
Certified Distributions
LC2430X has been certified with following distributions:
Fedora Core 3 with latest updates (2.6.11 Kernel) - Recommended
Fedora Core 2 with latest updates (2.6.9 Kernel)
RedHat Enterprise Server and Enterprise Workstation (Feature Limitations)
SuSE (+$50)
Gentoo
Ubuntu
Debian (Sarge) ($50 installation fee)

To purchase call: (877) 800-6873

All of above systems are in stock and will be shipped within three business days.
Standard US shipment charge: $38 Free* per system (UPS ground)
Call for international or other special shipping needs.