LC2000 Series Linux Laptops
LC2440N Linux Laptop - High Resolution - Ultimate Expandability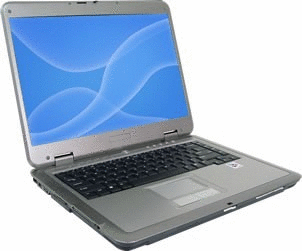 Processor
Intel Pentium M (Centrino/Sonoma) - 1.73 GHz-2.26 GHz (2MB Cache!), 533 FSB
Memory
512 MB (Upgradable to 2 GB)
533MHz RAM
Comes standard with Five-Year Memory Warranty!
Hard Drive

60 GB (Upgradable to 80GB or 100GB) ATA or SATA (ATA by default)
Default speed is 5400RPM. Some sizes available with 7200RPM.

Display
15.4" WSXGA+ (1680 X 1050) TFT Display
Video/Graphics
PCI Express NVIDIA GeFORCE GO 6600
128 MB dedicated Video RAM
Accelerated OpenGL
Optical


DVD & CD-R/W Combo Drive
Current special: Free Upgrade to DVD-RW!

Networking
Built-in Gigabit Ethernet (10/100/1000)
Optional Integrated 802.11g Wireless
Modem
Internal 56k

I/O Ports

• 5 USB 2.0 ports
• 1 IEEE 1394 port
• 1 Mic-in jack
• 1 Headphone/SPDIF jack
• 1 RJ-45 Ethernet plug
• 1 RJ-11 Modem plug* (Supported in FC5)
• 1 External VGA
• 1 S-Video output port
• 1 PCMCIA 2.1Card compatible with Type I/II
• 1 DC-in jack
• 4 in 1 Card Reader*


* Not tested/supported with Linux

PCMCIA
Type I/II Compatible PCMCIA socket
Battery
Smart Li-Ion battery
Physical

Width: 14" x 10.8" x 1.4" (WxDxH)
Weight: 6.6 lbs

OS
Pre-loaded with Red Hat/Fedora Linux or another distribution of your choice (see list below)
Optional Dual-Boot Install with Windows XP
Warranty
One year. Upgradable.
Comes standard with Five-Year Memory Warranty!
LC2440N Linux Laptop™ is our latest desktop replacement laptop. It builds on the award-winning LC2000 technology, including great CPU/Motherboard performance, big screen, fastest processor and big memory, and adds high-performance graphics engine to the mix. Whether you are a developer, looking to improve your productivity by being able to work on multiple windows at the same time, or a gaming enthusiast wanting that cutting edge 3-D performance, LC2440N will simply blow you away. The laptop has been thoroughly configured and stress tested by LinuxCertified's engineers. One key feature of this laptop is expandability to 2 GB of memory! This allows the most memory hungry applications, including databases, to be available anywhere you take this laptop.
No Windows Tax! Most laptops come with built-in cost of Windows, regardless of whether you want to use Windows or not. LC2000 series is free of any such baggage. You only pay for Windows if you want to use it.
Price (Pentium M): $1699 (Special until 5/31/07) Customize & Order Now

Optional Dual-Boot capability (Linux and Windows XP): $175
Optional integrated 802.11g Wireless card (mini-pci): $69

Distributions:
Fedora Core 6 (default distribution)
Ubuntu 6.06 LTS ( Dapper Drake)
Ubuntu 6.10
Open SuSE 10


Please specify desired distribution while ordering.
Current special: Deluxe laptop bag free with purchase.

Support and Warranty options
To purchase call: (877) 800-6873 or Customize & Order Online

All of above systems are in stock and will be shipped within three business days.
Standard US shipment charge: $38 per system (UPS ground)
Call for international or other special shipping needs.
California sales tax will be added to shipments within California.
California customers: Electronic Waste Recycling Fee
The Electronic Waste Recycling Fee is imposed on the consumer and collected by the retailer, at the time of the retail sale, computer monitors, laptop computers, and other devices. The fee, starting January 1st, 2005, ranges from $6 to $10 dollars depending on screen size, will be collected at the time of retail sale, including Internet and catalog sales, to California consumers.